Hey Reader,
​
Are you ready to unleash the full potential of your brain and supercharge your creativity? It's time to revolutionize the way you think!
In our fast-paced world, standing out requires top-notch creative thinking and problem-solving skills. And I've got the perfect tool to help you level up:
Mind Mapping.
In a world where creative thinking and problem-solving skills are more important than ever, mind mapping is your key to unlocking new ideas and solutions. Dive into this powerful technique and uncover practical tips to get you up and running.
Let's go!
The Mind Mapping Breakdown: Why It's a Game-Changer
Mind mapping is a visual technique for organizing and connecting ideas, thoughts, and information.
It involves creating a central node, branching out with related ideas, and further expanding those branches with more specific details. It's like a tree for your thoughts.
Real-life applications include brainstorming, project planning, note-taking, and so much more. I use mind mapping to plan every presentation I do, and it's been a game-changer.
Let's dive deeper into the different components of a mind map:
Central idea: This is the core concept or theme of your mind map. It should be a single word or a short phrase that captures the essence of your topic.
Branches: These are the main subtopics or categories that stem from your central idea. They should be related to the central idea but distinct from one another.
Sub-branches: These are more specific details, examples, or ideas related to each branch. They help you explore the intricacies of your topic.
Visual elements: Colors, symbols, images, and other visual cues can make your mind map more engaging and easier to navigate.
The Mind-Blowing Benefits of Mind Mapping You Need to Know
Mastering mind mapping can:
Boost creativity and problem-solving skills: By visually connecting ideas, you can spot patterns, generate new insights, and develop innovative solutions.
Improve memory and retention: The visual nature of mind mapping helps stimulate the brain's recall function, making it easier to remember information.
Enhance communication and collaboration: Sharing a mind map with your team can facilitate discussions, clarify complex ideas, and foster a shared understanding of a project.
Reduce stress and anxiety: By providing a structured way to organize your thoughts, mind mapping can help declutter your mind and alleviate mental strain.
And that's just the tip of the iceberg.
Plus, it's not just for "creative types" – anyone can benefit from this technique.
Demystifying Mind Mapping: The Step-by-Step Learning Blueprint
Start with a central idea: Write your main topic in the center of the page.
Add branches: Connect related subtopics to the central idea.
Expand the branches: Add details, examples, or further subtopics.
Use colors, symbols, and images: Make your mind map visually engaging.
Revise and refine: As new ideas emerge, update your mind map accordingly.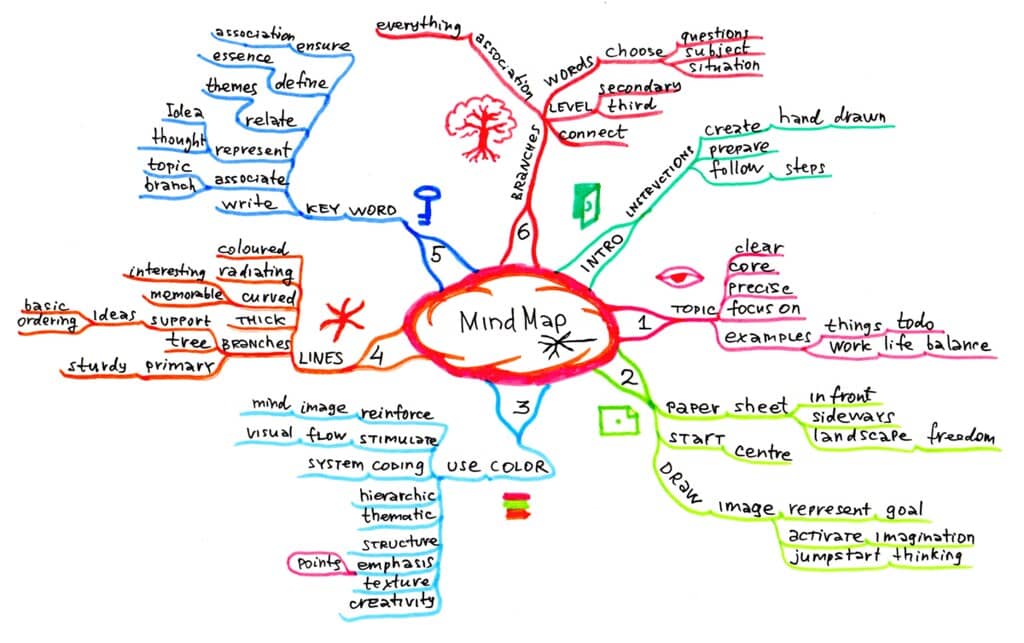 To help you learn, check out these resources:
Conquering Mind Mapping Obstacles: Tips for Success
You may face some obstacles, such as:
Feeling overwhelmed by information. Start small by focusing on one aspect of your topic, and gradually expand from there.
Struggling to find connections between ideas. Take a step back and look for overarching themes or patterns. Don't be afraid to rearrange your mind map if needed.
Fear of making a "messy" mind map. Embrace the mess! Your mind map is a reflection of your thought process, so it's okay if it's not perfectly neat. You can always refine it later.
Don't worry. Practice makes perfect, and remember that there's no wrong way to create a mind map. It's your unique representation of your thoughts.
Keep Your Mind Mapping Momentum: Tracking and Accountability Tips
To track your progress, create a mind map journal or use a mind mapping app like MindMeister. Document your learning journey by creating a new mind map for each topic you explore or goal you set.
Set realistic, achievable goals for yourself. Break down your goals into smaller milestones, and celebrate your progress along the way.
You've got this!
Mind mapping is a powerful tool to unlock your creative thinking and problem-solving skills. Give it a try, and watch your life and career transform.
Happy Mind Mapping!
Sign up to my weekly newsletter below: